They say Imitation is the sincerest form of flattery! We also know the bible is full of warnings about pride. While I think it natural and normal for any parent to have some level of it when their child follows in their footsteps think for a moment of how God the Father feels when we imitate Christ Jesus His Son.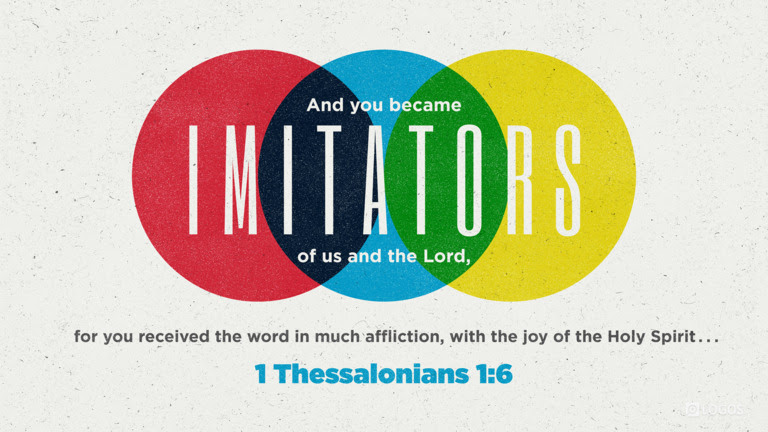 CONTEXT:
This is the Apostle Paul's first epistle (letter to the church at Thessalonica, v.1 To the church of the Thessalonians in God the Father and the Lord Jesus Christ: in which he begins Chapter 1 by expounding upon the Faith of and giving thanks for the believers of the church there. v.2-5 2 We give thanks to God always for all of you, constantly[a] mentioning you in our prayers, 3 remembering before our God and Father your work of faith and labor of love and steadfastness of hope in our Lord Jesus Christ. 4 For we know, brothers[b] loved by God, that he has chosen you, 5 because our gospel came to you not only in word, but also in power and in the Holy Spirit and with full conviction. You know what kind of men we proved to be among you for your sake. 
That brings us to our text for today so let us break it down: 
And you became imitators – Greek (mimētai), Strong's Greek 3402: An imitator, follower; so one who follows the example or imitates the example set before them. Should you follow anyone's example, every pastor? Read on my friend:
of us – Greek (hēmōn), 1st person plural, Strong's Greek 1473: I, the first-person pronoun. A primary pronoun of the first person I. What is so significant about this is it is Paul writing someone who had direct contact with Christ. Who preaches by Grace Alone, by Faith Alone, By Scripture Alone, in Christ Alone to the Glory of God Alone. Such a person is the only example we should consider following. 
and of the Lord, – Greek (Kyriou) Strong's Greek 2962: Lord, master, sir; the Lord. From kuros; supreme in authority, i.e. controller; by implication, Master. A lot of folks want to make or claim (you can't do either on your own) Jesus as savior but refuse to have Him as Lord of their lives. If He is not you are not a Christian! You must imitate the risen Savior by making Him Lord and Master of ALL ASPECTS OF YOUR LIFE. 
for you received the word – Greek (dexamenoi) Strong's Greek 1209: To take, receive, accept, welcome. Middle voice of a primary verb; to receive. You cannot pick and choose what parts of God's Holy Word you will follow or imitate it is ALL OR NOTHING. 
in much affliction, – Greek (thlipsei) Strong's Greek 2347: Persecution, affliction, distress, tribulation. From thlibo; pressure. Life can be hard, full of trails and turmoil but better to have welcomed the Gospel and become imitators of Christ having eternal assurance and…
with the joy of the Holy Spirit, – Greek (charas) Strong's Greek 5479:  Joy, gladness, a source of joy. From chairo; cheerfulness, i.e. Calm delight. How would you rather go through tough times with no hope or with a source of joy that cannot be defined? The Holy Spirit indwells 1 Corinthians 3:16 and is our source of joy and comfort in times of trouble (the Beatles got it wrong all those years ago). 
CONCLUSION:
Christians are to live their lives as examples to the rest of the world.  That is not always easy to do, there will be trying times both on a large scale (pandemics, disasters, etc.) and more personal level (loss of jobs, sickness, etc.). Yet like the Thessalonians, we can both receive the Word in our afflictions and do so with the joy of the Holy Spirit  that we may share it with others by our example.