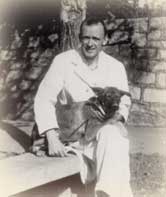 "When I was trying to decide what I would do with my life, I became convinced God wanted me to be a medical missionary. That decision took me to China." Bill Wallace made that decision in 1925 when he was seventeen years old. When he sailed as a Southern Baptist Missionary, he was a direct answer to prayer; Christians in Wuchouw had been praying earnestly for a missionary doctor.
He spent his life fulfilling his youthful decision and in the end died for it. His commitment was so sincere that he turned down a high-paying job in the United State. Bill's total commitment kept him in China through various uprisings, the Japanese invasion and World War II. He performed surgery with bombs bursting around him. At one point, he moved the hospital up river on a boat to escape the Chinese. Urged to flee from China, he replied, "I will stay as long as I am able to serve."
His commitment took him back to Wuchouw, China after the Communist takeover.
When America entered the Korean War, anti-American feeling ran strong in China. Mission boards urged their people to leave China. Bill refused. Although he was known as one of the best surgeons in China and many Communists had profited from his skill, the Communists did not spare him.
Before dawn on this morning, December 19, 1950, they raided his home. Bill Wallace, a man utterly dedicated to Christ and to healing others, went to prison.
Claiming they found a gun under his pillow, the Communists accused him of being a foreign agent. Brutal interrogation followed. Disoriented by lack of sleep and beatings, Bill signed a phony confession. The peaceable man became depressed, but posted scripture verses on his cell walls to focus his faith. He witnessed about Christ to everyone who passed his cell.
Two months after his arrest, Bill was found hanging in his cell. The Communists claimed he killed himself, but his body told a story of terrible abuse. Armed guards tried to hide their handiwork by burying him in an unmarked grave.
Faithful Chinese Christians did not allow that. Risking their own lives, they laid him to rest with a proper ceremony. Above his grave they placed this sign: "For Me to Live Is Christ."
"He was a martyr not because he died but because he so identified with the Chinese that they considered him one of them," said a missionary nurse who worked with him.