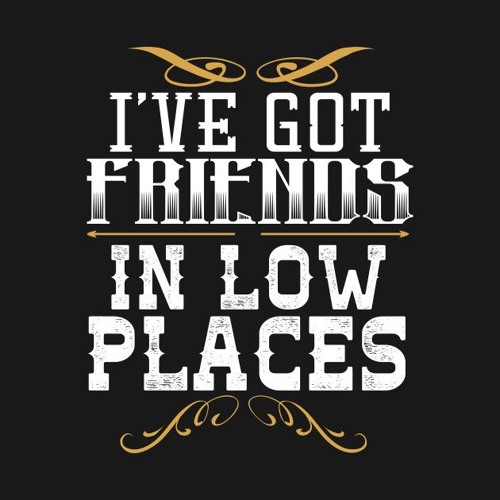 Romans 12:9-21 
Christian Ethics
Live in harmony with one another. Do not be haughty, but associate with the lowly.[b] Never be wise in your own sight.

(v.16 ESV)
Unánimes entre vosotros; no altivos, sino asociándoos con los humildes. No seáis sabios en vuestra propia opinión.

(RVR
1960)
If you have listened to any "Country" music since the 1990's you are familiar with Garth Brooks and his mega hit "I've Got Friends in Low Places." While Mr. Brook's song has no true Christian connection it does relate to today's theme. 
If you remember Paul starts out Chapter 12 of Romans with v.1-2 about believers living their lives as a living sacrifice for God. In verses 3-8 Paul says while we all have diverse gifts we are all make up one body (the Church) in Christ).
That brings us to v.9-21 and the subject of Christian Ethics or The Marks of a True Christian. I am not going to cover this in great detail but will highlight some here: 
Love be without hypocrisy
Detest evil
Hold on to that which is good (righteous)
Love the brethren
Are zealous in their faith
Rejoice in hope
Are patient in affliction
Are persistent in prayer.
Share with the saints in their needs
Pursue hospitality
Bless those who persecute you
Bless and do not curse
Rejoice with those who rejoice
Weep with those who weep
Do not repay anyone evil for evil
Give careful thought to do what is honorable in everyone's eyes
If possible…live at peace with everyone
Help their enemies
Are not conquered by evil
Conquer evil with good
Quite the list is it not? Right after #14 is where we would find our text verse for today. So let us break it down:
Live in harmony with one another: Easy right, maybe if you are locked away in seclusion. Yet the reality is that for most of us living in the modern EVIL world living in harmony with one another even our fellow brothers and sisters in Christ can present quite a challenge. This should be obvious by the large number of denominations within the Evangelical Church. So what is Paul saying, it is obvious not that we must all think alike or alike. Paul is saying we MUST live in a manner that both demonstrates our Christian Ethics and Glorifies God to do less is a sin. 
Do not be haughty: To live harmoniously requires humility, just as Christ our Lord had to humble Himself all the way to the Cross, we too must be willing to daily take up our cross for the sake of the Kingdom and humble ourselves. This does not mean (and I find no indication from the Greek) we are to be doormats. It mean we can not approach others, especially non believers with a holier than thou attitude.   
but associate with the lowly.[b]: Many of the early Gentile converts came from people in low places. Slaves and women, those who had no social standing in that day were attracted to and welcomed. Today in many churches the opposite is true. Unless you dress a certain way, talk the right kind of talk, and most importantly walk their type of walk your are considered an outsider. How sad a testimony of the modern church. How are we going to stand before the Lord and respond when He asks Matthew 25:40 (Paraphrased) … 'Truly I tell you, whatever you did for one of the least of these brothers and sisters of mine, you did for me, why then did you do nothing?' There are plenty of ways you can be involved with associating with the lowly, The Ordinary People, in your community. You can volunteer at a local hospital, nursing home, check on an elderly neighbor, soup kitchen, shelter, the list is endless. 
Never be wise in your own sight: Oh ye of STUPID wisdom, that seeks your own understanding. How many times must you get into bad situations before you daily turn to the Lord for guidance? 
In conclusion, we must make every effort to live peaceably with one another not forsaking those less fortunate and asking God to guide our efforts daily. 
---
I got the idea for today's devotion from one I get every morning. Here it is for your edification:
Today's Reading | Romans 12:9-21 Our "Associations"
If we looked at the people you spend your time with, what would we discover? What does their spiritual condition tell us about yours? What does their popularity tell us about you? What does how popular the people I hang around with have to do with who I am? According to today's reading, the answer to all those questions is: a lot! Paul gives us instructions about dealing with people. He talks about those who persecute you and those who are your enemies. Then, in verse sixteen he makes an important statement. He says, "be willing to associate with people of low position." Paul realized that pride will keep you from doing just that. If you only hang around with the popular or beautiful people, then you are proud. Paul tells us to stop being proud and be willing to spend time with people of low position. He wants you to invite them to a party you are planning to attend. Ask them to sit with you at church. Sit by them in the chow hall. The question still remains, what do the people you always spend your time with tell you about yourself? When is the last time you associated with or felt compassion for people of low position?