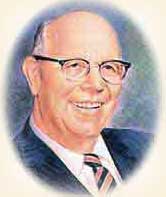 R G. LeTourneau was a man who knew how to clear obstacles. When he met his wife Evelyn, she was but twelve, he was in his twenties. Almost at once she fell in love and began to pray, "Oh God, please have him wait for me." Bob did wait for her. When she turned seventeen he asked for her hand. His father, Oscar Peterson, forbade marriage until Evelyn was twenty-one. So R. G. eloped with her to Tijuana.
Life was tough for the young couple. Often they did without necessities. For years they did not even have running water. The death of their first child forced them to realize they had neglected God in their marriage. They committed themselves fully to the Lord and began to tithe. By 1920 R. G. opened his first garage. The year of the stock market crash he formed his Peoria earth-moving business. Despite the times, LeTourneau succeeded.
R. G. became the greatest obstacle-mover in history, building huge earth-moving machines. During World War II he produced 70% of all the army's earth-moving machinery. He spoke of God as the Chairman of his Board. A lay pastor in the Christian and Missionary Alliance, R. G. shared his faith with millions during his life. Additionally he started two agricultural missions in Liberia and established the LeTourneau foundation to channel 90% of his personal salary to Christian endeavors, especially the training of Christian workers in practical skills (such as house-building) which are needed on mission fields. He also gave of his time to Christian business associations and Christian colleges.
LeTourneau's life is testimony to the big things God can do through men with big ideas. He learned to give unstintingly to God.
He also founded what is now
LeTourneau University
in Longview Texas