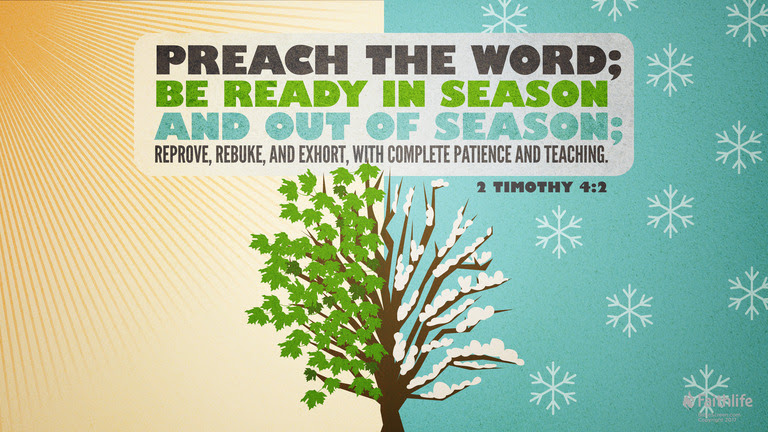 que prediques la palabra; que instes a tiempo y fuera de tiempo; redarguye, reprende, exhorta con toda paciencia y doctrina.
(RVR 1960)
This is a very well known verse that has been used in thousands of sermons over the years but what is Paul really saying to Timothy here? Lets break it down.
First CONTEXT; Paul has just finished in Chapter 3 telling Timothy of tough times (struggles) that may be coming. There will be persecutions, false teachers, etc. Yet he has something greater that he can rely on 14 But as for you, continue in what you have learned and firmly believed. You know those who taught you, 15 and you know that from infancy you have known the sacred Scriptures, which are able to give you wisdom for salvation through faith in Christ Jesus. 16 All Scripture is inspired by God[a] and is profitable for teaching, for rebuking, for correcting, for training in righteousness, 17 so that the man of God may be complete, equipped for every good work. 2 Timothy 3:14-17 (CSB) So Paul begins Chapter 4 with a charge for Timothy to begin his ministry in verse one and then we get to our text. 
In Season – simply put be ready to preach when you are supposed to. When there is no reason not to, when there is no danger in doing so. If you are a Pastor/Elder Sunday morning 15 minutes before worship service is not the time to prepare your sermon.
Out of Season – we must be ready to share the Gospel when it is inconvenient, not practical and maybe even dangerous.
Reprove – Correct those in error. What you mean I am to judge others, YES! Paul is telling us to us a LOVING RIGHTEOUS judgement to correct others errors. Yet like Christ warns be careful how you go about it. Wrongly and that big log in your eye may bet twisted.
Rebuke – For a long time I did not see a difference here, let me try and make sense of this we reprove a fellow Christian and rebuke error in non-Christians. An example might be if you hear a brother curse you would want to say something to him (Reprove) speaking out and condemning abortion (Rebuking) is something every true Christian should be doing.
Exhort – real simple here encourage fellow believers, provide comfort, support and assistance as needed. Quoting the Beatles "I can get by with a Little Help From my Friends"
Patience – all preachers must be patient, in fact all of God's children must be Patient. Our Christian walk is not easy, but if we have good fellowship with God and like minded believers it is much more pleasant.
Teaching: preaching for the sake of speaking is pretty much useless as far as I am concerned. Paul is telling Timothy that a practical application of God's word (teaching) should be a part of every sermon.
Why is is it so important how and what we preach? Paul follows our main text with this:
3 For the time will come when people will not tolerate sound doctrine, but according to their own desires, will multiply teachers for themselves because they have an itch to hear what they want to hear. 4 They will turn away from hearing the truth and will turn aside to myths. 
3 Porque vendrá tiempo cuando no sufrirán la sana doctrina, sino que teniendo comezón de oír, se amontonarán maestros conforme a sus propias concupiscencias, 4 y apartarán de la verdad el oído y se volverán a las fábulas.
It is the preaching of SOUND Doctrine that will help make mature (Sanctification) Christians.