Separation or segregation was  a result of the the curse of Babel (Gen. 11:7-9) Pentecost (Acts 2:5-11) broke down the walls of separation and brought people together through the Holy Spirit. Treating people different showing favoritism (James 2:1:13) racism is a sin against God.
Today it seems that all one has to do is disagree with someone else's opinion to be labeled a Bigot or Racist. We we be wise to remember the bible has a much different view. It condemns all forms of bigotry and racism, by declaring 1) All are created by God (Gen 1:27) 2) All are decedent from Adam and Eve (Gen 1:28) 3) All are created equal in God's eye (Gal 3:28) 4) Christ died for the elect (1 John 2:2) regardless of race 5) All people are equal in Heaven (Rev 7:9).
As a true believer it is our duty to oppose racism and bigotry at every level. At the same time we must never be afraid to stand up and argue for righteousness no matter what we will be labeled.  – Mike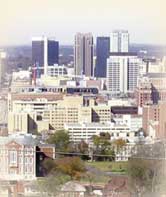 It was this day, Sunday, September 15, 1963. The place was 16th Street Baptist Church in Birmingham, Alabama. The lesson for the day was, "The Love that Forgives," based on Matthew 5:43, 44. "You have heard that it was said, 'Love your neighbor and hate your enemy.' But I tell you: Love your enemies and pray for those who persecute you." A prayer was to accompany the lesson: "Dear God, we are sorry for the times we were unkind."
The lesson would prove to be grimly appropriate. But it was never finished. At 9:22 A.M., before it could be completed, the church exploded.
Ten or fifteen sticks of dynamite planted under the back steps of the building erupted with terrific force. The explosion hurled yellow bricks through cars, shattered nearby businesses and smashed a fist of terror through the church. The rest rooms at the rear of the church absorbed the brunt of the blast. Nonetheless, the shock was sufficient to collapse the church rafters, shred pews and shatter windows. Members of this black congregation–wounded, bleeding, and blinded,–staggered into the street as rescue crews rushed to the scene. In place of hymns, screams and sobs and cries of protest filled the air.
An angry mob of blacks gathered. Black ministers called on them to pray for the men who had perpetrated this outrage. "We must have love in our hearts for these men." But the anguish and bitterness of the moment spoke louder. The mob began to pelt rescue workers and police with stones as they dug into the rubble. Police fired over the head of the crowd to disperse them. Once again hatred prevailed.
Birmingham was no stranger to bombings. Since World War II, fifty had been directed against blacks. But none of the previous bombers had struck against churches. Or targeted children.
Today, children were missing. Fears turned to stark reality as the wreckage was peeled aside from what had been the rest room. One man uncovered the remains of his own granddaughter. Torn and mangled bodies came to light: little bodies, the bodies of four girls.
Denise McNair, Carole Robertson, Addie Mae Collins and Cynthia Wesley died. Seventeen other people were wounded. The death toll could have been much higher. Four hundred people were in the church at the time. Christ could only have grieved. He taught us to love our neighbor as ourselves, and yet the very churches built in his name were segregated and subject to mindless violence as men battled for political control of a race-crazed city. One reporter noted that Christ's head in a stained glass window was blown off.
Klansman Robert Chambliss was convicted of his part in the crime fourteen years after the blast. Two other conspirators, Tommy Blanton and Bobby Cherry were finally brought to justice in 2001 and 2002 respectively.